Back by popular demand!
Did you know that spreadsheets are one of the most versatile tools you can use in your family history research? While they won't magically break down your brick walls, a well-designed spreadsheet can help you analyse and visualise genealogical findings.
Join Fiona Brooker in this three-hour workshop and delve into the vast potential of spreadsheets. Learn how to organise your research objectives, outline research questions, and systematically track your progress.
By employing spreadsheets to create personalised research plans, you'll stay focused, efficient, and effectively prioritise your inquiries.
Timelines are invaluable for comprehending your ancestors' lives chronologically and gaining a broader perspective on their experiences. Fiona will teach you how to employ spreadsheets to construct comprehensive timelines enabling you to identify gaps in your knowledge, spot intriguing patterns, and make informed hypotheses for further investigation.
DNA testing has revolutionised the field of genealogy, enabling individuals to uncover hidden familial connections and unravel ancestral mysteries. Find out how to use a spreadsheet to colour code DNA matches, cluster and sort them (for example, by surname, segment length) and record notes.
Constructing and maintaining a family tree is at the core of genealogical research. By harnessing the capabilities of spreadsheets, you can build intricate family trees that can accommodate diverse relationships, multiple generations, and complex branching, with information about each individual, enabling you to preserve and share your family's rich heritage.
Date: 21 March 2024 @ 5 PM Eastern US (3-hour session with a short break)
About the
educator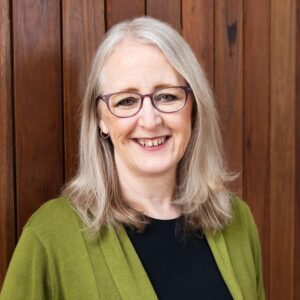 Fiona Brooker

Fiona Brooker from Memories in Time is a professional genealogist who has been actively researching her family history for over thirty-five years. She has gained a Higher Certificate in Genealogy from the Institute of Heraldic and Genealogical Studies and is a ProGen graduate. Fiona has served as both President and Treasurer of the New Zealand Society of Genealogists (NZSG). She has organised family history conferences and expos in New Zealand and loves to teach and mentor family historians.