Fred Smith's death certificate states that he died from tuberculosis on 20 January 1910. His parents are named as Mary Johnson and Thomas Smith.
Seems fairly straightforward, doesn't it?
But—is it really?
Can we rely on this information as evidence which will then contribute to proof?
A death certificate, like other vital records today, is required by law in most jurisdictions. The information it contains is generally dictated by the laws of the time and place. Most commonly, a medical practitioner attests to date, time, place and cause of death, with legal consequences for filing false information.
But what about the identification of Thomas and Mary as Fred's parents? Can we give that information the same degree of acceptance in our search for genealogical proof? If so, why? If not, why not?
These are the typical questions we learn to answer when we apply the Genealogical Proof Process, as explained by  Elizabeth Shown Mills: "Sources give us information from which we selected evidence for analysis. A sound conclusion may be considered proof." [Evidence Explained: Citing History Sources from Artifacts to Cyberspace, 3d ed. rev. (Baltimore, Md. : Genealogical Publ. Co., 2017), 24.]
In this workshop, Judy Russell will work with you to better understand both the promise and the pitfalls of common genealogical resources like vital records, land records and more. You will consider the nature of each genealogical source, the information it contains, the factors that determine what information may be relied upon as genealogical evidence and what sound conclusion may be drawn from that evidence to reach genealogical proof—and how that entire process is impacted by the laws of the time and place. Through specific examples and mini-case studies, you will see how putting that analysis to work in your own research will help you go from finding a document to reaching a genealogically-sound conclusion — from source to proof — through the prism of the law.
About the presenter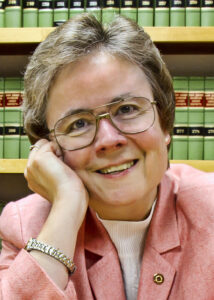 The Legal Genealogist Judy G. Russell is a genealogist with a law degree. She writes, teaches and lectures on a wide variety of genealogical topics, providing expert guidance through the murky territory where law and family history intersect. A Colorado native with roots deep in the American south on her mother's side and entirely in Germany on her father's side, she holds a bachelor's degree from George Washington University in Washington, D.C. and a law degree from Rutgers School of Law-Newark. Before she retired, she worked as a newspaper reporter, trade association writer, legal investigator, defense attorney, federal prosecutor, law editor and, for more than 20 years, as an adjunct member of the faculty at Rutgers Law School.
She is a member of the Association of Professional Genealogists, the National Genealogical Society and numerous state and regional genealogical societies. A recipient of the Silver Tray Award from the Utah Genealogical Society and the 2017 Award of Excellence from the National Genealogical Society Quarterly, she now serves as a member of the NGSQ editorial board.
An internationally-known lecturer and course coordinator and faculty member at numerous genealogical institutes, she holds credentials as a Certified Genealogist® and Certified Genealogical Lecturer℠ from the Board for Certification of Genealogists®. Her award-winning blog appears at The Legal Genealogist® website (https://www.legalgenealogist.com).